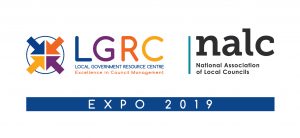 Local Government Resource Centre Associates (LGRC) and the National Association of Local Councils (NALC) have established a new partnership to stage the 2019 Local Council EXPO on 21stJune 2019 at Chateau Impney, in Droitwich, Worcestershire. This follows the highly successful event held in 2016 at the same venue.
Every Town, Parish or Community, Councillor, Clerk or anyone with a general interest in effective Local Councils will benefit from attending the EXPO. It will be by far the largest event taking place anywhere in the UK for those with an interest in operating effective modern Councils.The event will include an exhibition of the best products and services available to local councils together with demonstrations of the latest technology. With all-day entry there will also be an opportunity to speak in depth to a range of experts about how the use of new products can enhance operational efficiency and effectiveness. In addition, there will be a programme of demonstrations, presentations and discussions running throughout the day in rooms adjacent to the exhibition hall focussing on practical topics of specific interest to Modern  Local Councils.
The EXPO takes place once again in the purpose-built exhibition hall in the picturesque grounds of Chateau Impney. There is ample parking available and there will be a café operating throughout the day on the mezzanine overlooking the exhibition hall. While nowhere in England or Wales is more than 4 hours from the venue some hotel accommodation is available at the hotel for those who wish to make their journey to and from the EXPO over two days.
The new partnership between LGRC and NALC brings together the sector's foremost professional services company and the national representative body for Local Councilsworking with County Associations to support, promote and improve local councils. Acting together, we are confident EXPO 2019 will be a unique focal event in local council calendars and will provide a valuable experience for all participants which significantly moves forward the understanding of how modern councils can operate.
Further details of the EXPO can be found at http://www.lgrcexpo.com